ASOWOOD-2K
2 components adhesive for wooden floors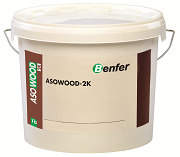 • 2 Components Epoxy-polyurethane
• Suitable for cement based and calcium sulphate based screeds, suitable for heated screeds
• Suitable for application on old non absorbing floors (ceramic, marble, wooden floors)
• Easy to use

Specific water-free 2 components epoxy-polyurethane adhesive for the laying of wooden floors of every kind and dimension on cement based screeds or on nonabsorbing floors (marble, tiles, flagstones, wood surfaces). The application on cement based screed with residual moisture < 2% and on calcium sulphate based screed with residual moisture < 0,5% can be done directly, the application on screeds with higher residual moisture level is possible after the screed treatment with ASOWOOD-Primer.
Applications
Laying of any type of wooden floors on:
• Cementitious surfaces
• Preexisting non-absorbing floors such as marbles, tiles, Palladian stones, wooden supports.
USAGE EXAMPLES