MULTIPLAN-12
Self levelling smoothing compound up to 12 mm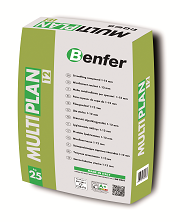 • Polymer modified
• Self levelling
• For interior and exterior use
• Easy to use
• Rapid setting
• Suitable for heated screeds
• Pumpable
• For thicknesses from 1 to 12 mm
•
Certificate QB 151 S 174
NEW FORMULA, MORE FLUID, LONG LASTING
EN 13813 CT C25 – F4 A1 fl
MULTIPLAN-12 is a cementitious self-levelling mortar for internal and external floors.
Applications
MULTIPLAN-12 is used in thicknesses from 1-12 mm for smoothing, repairing and levelling. Suitable substrates are concrete floors in accordance with DIN 1045, heated and unheated cement-based screeds in accordance with DIN 18560, old, well bonded tile finishes and rapid cement-based screeds (e.g.
SOLIDONE PRONTO
). MULTIPLAN-12 is suitable for external areas and those subjected to wet conditions when a suitable Benfer bonded waterproof membrane is installed. Not suitable as a wearing surface without additional finishes. Suitable substrates that have been levelled with MULTIPLAN-12 can be covered with tiles, needle punched carpets, textile finishes, PVC.
USAGE EXAMPLES