PRIMAFUGA 0/5
Sealer for joints from 0 to 5 mm wide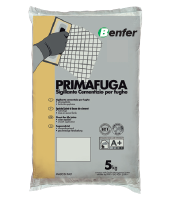 Special grout for ceramic floor and wall coverings it is composed of cement, aggregates with a choice of granulometry and additives. It was designed to harden rapidly with minimum shrinkage to provide elevated mechanical resistance united with an attractive aesthetic appearance. For the filling of joints from 0 to 5 millimeters in width. Available in 20 colors. For interiors and exteriors.
Applications
• Grouting of joints between ceramic floor and wall tiles of all types and sizes, both indoors and outdoors
• By adding
CEMLATEX GIUNTI
, the product is recommended for grouting joints in: systems subject to slight dimensional variations, heated floors, tiled areas subject to adverse environmental conditions, such as swimming pools, cold rooms, terraces, and surfaces with a high degree of exposure to water, flooring in areas subject to intense traffic, such as supermarkets, motorway service stations, shopping centres, and public premises in general, old flooring with deteriorated joints.
USAGE EXAMPLES