DEKOGROUT 2/12
Antibacterial, flexible, cement-based grout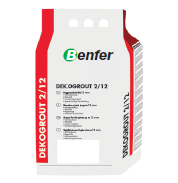 • Antibacterial and mould resistant
• Water repellent
• Resistant to freeze/thaw cycles
• Good application and wash-off properties
• For interior, exterior and under water
• Fulfils the requirements of EN 13888, CG2WA
• For joints from 2-12 mm wide
• Vapor permeable
• Suitable for heated floors and walls
• EC1: very low emission
• Colours matched to the
DEKOSIL
silicone system
Special flexible grout with rapid setting, for joints from 2 to 12 mm in wide. DEKOGROUT 2/12 grouts are composed of special cements, aggregates with a choice of granulometry and additives, it was designed to harden rapidly with minimum shrinkage to provide elevated mechanical resistance, good flexibility and minimum water absorption united with an attractive aesthetic appearance. They are available in various colors.
Applications
DEKOGROUT 2/12 mm is suitable for grouting glass mosaic, vitrified and fully vitrified clay tiles, brick tiles, tile slips, floor clinkers in bathrooms, showers and living rooms, on terraces, balconies and loggia. As well as facades, in swimming pools, commercial areas, and on heated and flow screeds. Furthermore DEKOGROUT 2/12 mm is suitable for jointing of natural stones, if the product-specific properties of the natural stone material permit this and discolouration (i.e. through stones physical characteristics) can be eliminated. We recommend
DEKOGROUT+
for the jointing of natural stones.
USAGE EXAMPLES