BENFERFIX EXTRA
Cement based adhesive for ceramic tiles application, indoor and outdoor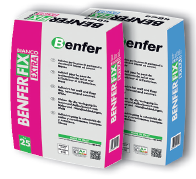 • Extended open time
• Excellent workability
• Also for porcelain stoneware up to 45x45
•
+ 40
years of applications
•

This product improvable with CEMLATEX 600
Cement based adhesive in white or grey with excellent workability and grip, for the interior and exterior application of ceramic floor and wall coverings. Its formula is the result of years of experience and guaranteed by thousands of applications in Italy and abroad, each year. Mixed with
CEMLATEX 600
, and once dry, it becomes the most indicated product for supporting the most severe stress in: swimming pools, cold rooms, prefabricated structures, heated floors, and floors that are subjected to heavy loads.
Applications
Interior and exterior laying of ceramic floor and wall tiles, marble and other natural stones of any type with side > 45 cm internal and 30 cm external.
Mixed with
CEMLATEX 600
:
• Laying of floor and wall tiles in difficult environmental conditions such as: swimming-pools, cold rooms, terraces, surfaces exposed to the action of the water, etc.
• Laying of heated floors
USAGE EXAMPLES