REOREP
Casting and adhesive resin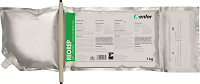 • Very good penetration
• High adhesion strength
• Rapid hardening
• Resistant to chemicals
• Water and frost resistant

REOREP is a two-component low viscosity, solvent free epoxy resin with an exceptional bond to concrete, screed, stone etc.
Applications
For producing tight secure bonds between joints and cracks in screeds and concrete, for sealing hollow areas in bonded screeds, for repairing stone, concrete and similar. Suitable for underfloor heating.
USAGE EXAMPLES