BENFERCLEAN STRONG
Buffered concentrated acid cleaner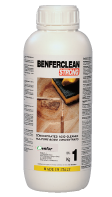 • Cleaning hardened encrustations of cement or tile adhesives and grouts from brick, cotto, ceramic tiles, fully vitrified stoneware, natural stone, concrete, sanitary ware
• Cleaning efflorescence from cotto, joints between tiles, plaster, etc


BENFERCLEAN STRONG is a buffered concentrated acid cleaner that contains corrosion inhibitors and is suitable for cleaning cement encrustations, limestone, frosting on masonry surfaces, ceramics, stoneware, hardened concrete and bathroom fittings. Its concentrated formula can be diluted with water as desired. A ratio of 1:5 is sufficient to dissolve encrustations rapidly.

LIMITATIONS: Do not use BENFERCLEAN STRONG on surfaces that could be damaged by acid, like marble or terrazzo (including reconstituted products), since it could cause unsightly opaqueness and corrosion. Do not use on tiles or other glazed surfaces if the glaze is not acid-resistant. Do not use on metallic surfaces.
USAGE EXAMPLES