BENFERCLEAN POLVERE
Acid cleaner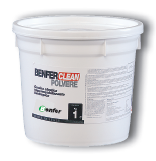 • Cleaning of encrusted cement or tile adhesives and hardened grouts on bricks, terracotta, ceramics, porcelain stoneware, decorative stone, concrete and bathroom fixtures
• Cleaning of salpetre mold on terracotta, joints between tiles, plaster, etc
• Cleaning of concrete mixers, scaffolds, cranes and other construction site equipment
• Cleaning of stainless steel or chrome
• Cleaning of rust stains


BENFERCLEAN POLVERE is a concentrated acid cleaner made up of organic acid. It is suitable for cleaning encrusted cement grouts, cement, mineral deposits and mold on surfaces in latex, ceramics, terracotta, hardened concrete and bathroom fixtures. Does not release toxic or harmful fumes.
USAGE EXAMPLES